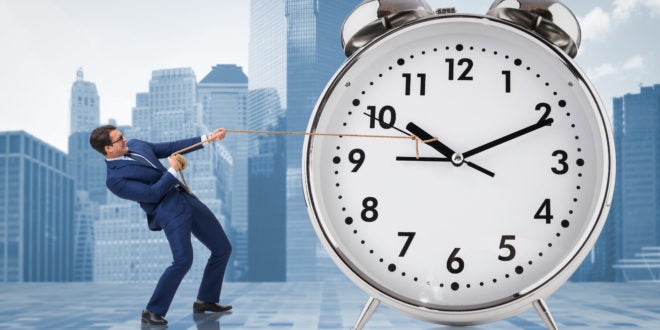 This is one of those tips that you'll want to dismiss because of its simplicity but then again;
If you aren't doing it, who really gives a sh*t if its simple or complicated?
Ready?
According to research firm BASEX, the average person loses 2.1 hours per day to interruptions.
What if you found a way to stay focused and NOT allow yourself to be interrupted from your sales activities for just 30 minustes and;
You focused that time on one of the 3 drivers of sales success;
Getting New Accounts
Retaining/WOWing Accounts
Growing Accounts
By the end of the year you will have liberated 34 hours of wasted time and;
Used it for something that will increase your year end numbers?
And just for the heck of it, what if you found a way to somehow free up another 6 hours of wasted time over the next 14 weeks.
Would that be a reasonable goal?
Add those two, simple things together and you get an extra week of selling time BEFORE year end WITHOUT;
Adding all kinds of extra hours to your schedule!
Might make the difference between pass and fail, bonus, no bonus, President's Club or staying at home or heck;
A few extra bucks to enjoy a well deserved holiday season!
So there you have it;
Something so simple;
You might be inclined to say "Duh" and;
Go back to NOT doing it 🙂
How To End The Year Even STRONGER!
We're going to be talking about how you can create an effective year end strategy during our 25 Ways To Finish The Year STRONG webinar!
It all takes place on Thursday, September 21, at 11:30 am EST.
Here's what I'm going to share;
How to completely leverage the Fall/Holiday season to YOUR advantage.
2 ways to TRIPLE your referrals. Referrals have this magical way of closing faster, no?
3 emails tactics that will get you MORE responses and MORE appointments.
5 ways you can use creativity to get a busy decision maker's attention.
6 ways o LEVERAGE your social network between now and year end!
4 things you MUST do with your existing clients ASAP.
How to pick up the pace BEFORE everyone starts with the "Call me back after he holidays" stall.
How to create a communication plan that will open new doors and help you close MORE deals.
Here's what you'll get;
(1) 90 Minute Webinar
Worksheets
Webinar Replay (Sent To You On The Afternoon of September 21st)
Bonus PDF With Additional Ideas, Reinforcement Material, Etc
Email Access To Paul Castain To Answer Any Webinar Related Questions After The Training Session
When?
Thursday, September 21 at 11:30 am EST

Can't make it that day?
Sign up anyway and we'll send you the webinar replay. View it any time you'd like!
How much?
$99
Please click HERE or the handy/dandy button below to reserve your spot!