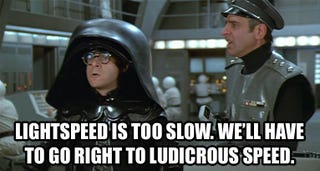 When it comes to describing all those bells, whistles and the things that make your widget different;
Context is the vehicle that can really drive the point home!
There are two flavors to this "context" thing;
Reduce To The Ridiculous
Expand To The Extreme
Reduce To The Ridiculous has been around for a while and quite frankly, there was even a time when it was listed as part of a once long list of "closes" like "The Ben Franklin", "The Puppy Dog" etc.
One way to "reduce to the ridiculous" is to break down the cost to not only the smallest conceivable, you put it in a context by comparing it to an every day item.
Example: "Less than the cost of a cup of coffee each day"
To make a point about sales reps NOT wanting to invest a few bucks to buy a magazine to or online subscription, I wrote a blog post "Are You Worth More Than A Visit To Starbucks?"
So that's the typical use of this type of tactic.
Here are some ones that aren't so typical;
Art Sobczak give the example of an SDR looking to convey how light their solution is. The rep asks the prospect on the other end of the phone to "Pick up a pen. It actually weighs less than that"
"Tone Your Lower Body in Less Time Than it Takes to Watch a Friends Rerun"
"Qualcomm's Quick Charge 3: 0-80% battery in less time than it takes to hate yourself for watching Keeping Up with the Kardashians"
Expand To The Extreme is a great tactic to dramatize your idea, offering, etc.
Examples:
Lets say you have a solution that saves clients 30 minutes a day.
You could certainly tell them that or;
You could expand that to the extreme and say that your solution saves your users, on average, 3 weeks per year.
In a commercial designed to attract drivers, Lyft expanded to the extreme and mentioned that their drivers earned over 250 million dollars last year.
H&R Block "We've prepared more than 720 million tax returns"
Bill Bourbonnais is a tax coach and demonstrated this tactic BRILLIANTLY this morning on LinkedIn;
"The Gettysburg address is 269 words. The Declaration of Independence is 1,337 words, and the Bible is only 773,000 words. However, the tax law has grown from 11,400 words in 1913 to 7 million words today."
So the next time you're looking to REALLY drive a point home and immediately separate yourself from the masses;
Use context in your messaging!
HERE ARE 50 MORE WAYS TO GET A DECISION MAKERS ATTENTION
On April 19th, at 11:30 am EST, I'll be hosting a special online webinar to help YOU;
Get the ATTENTION of a buyer who finds it way too easy to forget about you!
It's called 50 Ways To ROCK Your Cold Calls, Emails, and Sales Messaging and;
Here's what I'm going to share;
A 4 Step Messaging Framework That Works With Emails, Cold Calls, Snail Mail, LinkedIn, Etc
How To Capture Your Dream Client's Attention In The First Sentence Of Your Emails, Cold Calls and Voicemails
My 5 BEST Sales Email Templates
How To Create A Really Effective Phone Script WITHOUT Sounding Scripted. I'm Also Going To Send You The Template.
How To Use "Potato Chips" In Your Messaging To Make The Recipient Hungry For More
12 Tactics That Reduce Doubt, Skepticism, and Objections
How To Create A Very Different "Call To Action" In Your Emails, Cold Calls and Sales Messaging.
4 Voicemails (With Templates) That Will Help You Stand Out
How To Create A Prospecting Cadence That Mixes Phone, Email, LinkedIn, Snail Mail, Etc.
When?
April 19th at 11:30 am EST
What Do You Get?
(1) 90 Minute Webinar
Worksheets
Webinar Replay In Case You Can't Join Us Live or You'd Like To Review Again
5 Email Templates
1 Phone Template
4 Voicemail Templates
How Much?
$99
Please click HERE to reserve your spot and/or to receive the webinar replay if you can't join us live.