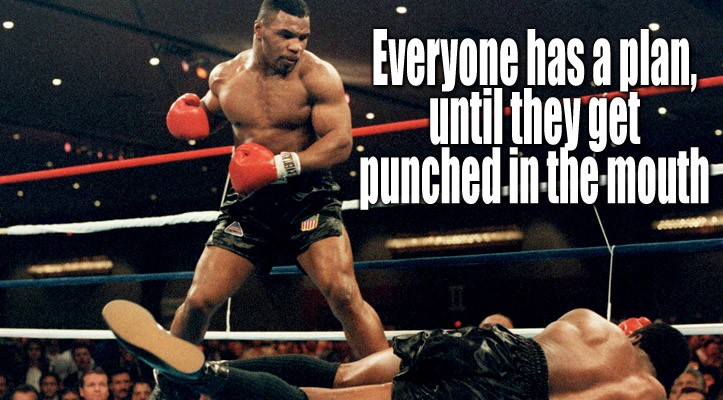 When Mike Tyson was asked by a reporter if he was worried about an upcoming fight with Evander Holyfield and his fight plan.
He replied;
Everyone has a plan until they get punched in the mouth
There's a lot you can learn from that simple phrase as you start to look at the second half of 2018.
First of all;
Do you even have a plan or are you the eternal optimist who thinks you'll just "make it happen"?
For those of you who do have a plan to sell more in the second half, its an actual plan, right? I'm not talking about goals, I'm talking about the actual "Here's how I'm gonna do it" type of stuff!
If you do have an actual plan instead of a bunch of goals, gold star but;
What's your plan for when you get punched in the mouth?
In sales, I have several things that I do when I'm "punched in the mouth".
I have a picture by my phone of the first day my family and I arrived at Disney World back in 2006.
That picture is sacred to me because I set the goal to get my family there just after my world fell apart in 1995.
I lost my business, 2 cars were repossessed and I was tens of thousands of dollars in debt.
I set that goal (under protest), at the urging of a multi millionaire friend who wouldn't let me tap out;
After I was "punched in the mouth".
He didn't give me a dime but helped me remember what I was fighting for.
I look at that picture as a reminder that I can do anything when I set my mind to it;
And a reminder of that moment I lifted myself off the ground, said "F*ck you!" and fought back!
After that little "rah, rah";
I ask myself a series of questions designed to hopefully turn the situation around or take a lesson and move on.
But there are other things that "punch me in the mouth"
Things like fear, doubt, negativity and harping on sh*t that I should've let go of.
I have a plan for those things too.
But enough about me;
It's super important that you understand that you are going to "get punched in the mouth".
Things are going to go wrong.
There are going to be setbacks.
You're going to lose a few battles.
People are going to say stupid sh*t to you.
You will doubt yourself.
Does your plan to sell more this year include a plan(s) for when you get punched in the mouth?
If not, then feel free to join us this Thursday for our ACCELERATE webinar.
Here what we're going to discuss;
Taking inventory of your strengths and weaknesses (You'll use my evaluation form and receive personalized email feedback).
Creating an ACTION plan to crush the sales goals you've set for 2018!
The 3 drivers of sales success and the 5 obstacles that typically get in the way!
How to access your peak performance states regularly and consistently!
The "10 Things" exercise (You'll receive personalized, email feedback).
How to generate 75 additional phone appointments in the second half of 2018 (WITHOUT breaking a sweat)!
Creating your own personal "War Room".
The one, non-negotiable thing that needs to be scheduled (besides prospecting).
50 ways to use a journal to guide your thoughts, ideas, and generate solutions. You'll also receive a PDF with exercises.
5 Ways to maximize your time and your productivity!
A simple thing you MUST do on your way to and from work each day!
When?
This Thursday, June 14th, at 11:30 am EST.
IMPORTANT . . . 
Can't make it then? Sign up anyway to receive the webinar replay and all the goodies listed below!
What Do You Get?
(1) 90 Minute Webinar
Webinar Replay
(1) Self Evaluation (It's informal and fun so don't worry)
Email Feedback Once You Submit The Evaluation.
Email Feedback Once You Submit Your "10 Things Exercise)
PDF With 50 Journal Exercises
Email Support For 30 Days
How Much?
$149
Please click HERE to reserve your spot!