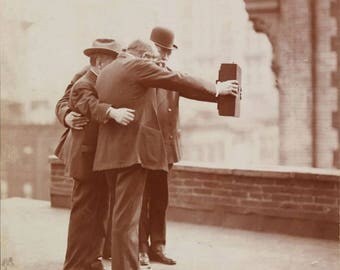 Taking a video with our phone is usually limited to a family event, the kid's game, or if you live in New York;
Capturing a road rage incident, and meanwhile;
There are several ways we can utilize that feature to help expedite deals!
Use Smartphone Video To Demonstrate Something
Demonstrations are a powerful form of evidence. Videos can help you do that.
Any type of demo will do but particularly ones where you want to bring something to your client that might be a tad difficult;
Like that 2 ton piece of machinery or capabilities best demonstrated on a job site.
When a client can't go to the thing you want them to see;
Bring it to them via your smartphone.
Use Smartphone Video To Take Clients Behind The Scenes
How about a video tour where your client can meet your support team?
One of my clients does this and makes the last stop on the tour a visit to the President's office (arranged in advance). Its a nice touch and shows a level of interest his competitors fail to demonstrate.
Showing someone that we do indeed have a capable support team can go a long way!
Use Smartphone Video To Capture A Testimonial Right In The Moment
Next time you're sitting with your client and they tell you how great you and your company are;
Ask if you could capture it on video and tell them "Because then I can use it to get more awesome clients like you!"
Funny thing about capturing someone's energy and excitement right in the moment;
It has this crazy way of becoming infectious!
Testimonials are a powerful form of evidence.
Video testimonials brings things up a notch or three.
Use Smartphone Video To Stay Top of Mind Between Meetings
The time between meetings is a dangerous time for sales reps.
Your client is subject to the influence of your competitors, other stakeholders, etc.
Doubt and skepticism might set in.
Loss of interest and/or momentum.
So instead of the used and abused "Calling to check in" thing;
Think about ways you can use video to;
Reinforce your value proposition and;
Provide additional evidence!
Use Smartphone Video To Create Meaningful Content For Your Clients
You could take a smartphone video of someone on your team answering a frequently asked question.
How about a 1-2 minute video of you sharing a tip for your clients?
How about a two minute video of you interviewing a client?
Use Smartphone Video To Set Yourself Apart From Your Competitors
We love to talk about "differentiation" in sales and yet;
We use the same used and abused tactics as our competitors.
How can you use video to stand out?
IMPORTANT . . .
Registration is about to end for our How To GROW Your Accounts webinar.
I'm going to be sharing 30 tactics, 5 email templates and a communication plan to help you increase your opportunities with your clients.
Have you signed up yet?
If not, here's what you're about to miss;
How To Get The Inside Track On New Opportunities.
How To Expand To Other Divisions, Locations Etc.
12 Ways To Sell Change, Reduce Doubt and Skepticism.
A Meeting Format That Opens Your Client (and all the stakeholders) Up To New Ideas.
A 3 Step Questioning Technique That Helps Safeguard Your Accounts, Generate MORE Business, Testimonials and Referrals.
How To Get Access To Other Stakeholders Without Offending Your Contact.
How To Add Value Via Ideas, Surprises and Resources.
How To Create A "Keep In Touch" Plan Without Defaulting To "Calling To Check In".
5 Email Templates That Create Value and More Opportunities With Your Clients.
How To Reanimate A Dormant Account
How To Win Back A Lost Account
When?
This Thursday, February 22nd at 11:30 am EST and if you can't make it I'll send you the webinar replay.
What Do You Get?
(1) 90 Minute Webinar
Worksheets
5 Email Templates That Create Value and More Opportunities With Clients
Webinar Replay (In case you can't make it or you'd like to go back for seconds)
How Much?
$99
Please click HERE to secure your spot!